EN Welcome to the LifeSet
™


Meta Programs Personality Survey

This NLP Personality Profiling Survey has been made free for a limited time only.


Use your beliefs, values and decision strategies to:

Understand better what propels you to act in certain ways
Work more productively and efficiently
Improve your relationships
Motivate others' performance
Testimonial
"I've had people try and describe me before and more often than not fail at it. But the test managed to do more than describe me. It defined and mapped out very complex parts of my personality." ~ Dave Peters, Sydney Australia ~
This personality assessment identifies your dominant orientations in key Meta Programs - those characteristics which influence how you respond to and plan your world.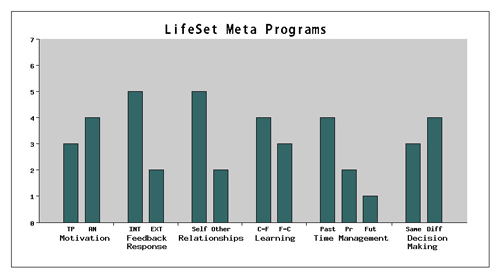 (Example of the personality graph you will receive with your results)
Terrence McClendon MA, a registered psychologist was trained in Neuro-Linguistic Programming (NLP) in California by the founders of NLP. After years of teaching and coaching people in the tools and techniques of NLP, Terrence developed the LifeSet™ Meta Programs Survey. He regularly utilises this tool when undertaking corporate training and 'Behavioural Modeling'. For example, he uses it to identify the characteristics of 'star' performers in organisations - the best salesperson, the best counsellor, the best teacher etc - and then assembles a training program to develop similar successful skills in others. He also uses this LifeSet™ Survey as a training tool in his advanced Negotiations and Selling courses and to identify learning styles and guide students to more productive achievements.
By taking this survey, you can gain some insight into the characteristics that influence your performance. It will take less than 20 minutes to complete the 60 questions.
To get your results, please complete the following questionnaire, you will receive a graph of your results like in the example above along with an interpretation of the results for the 6 key personality dimensions.
The link to your NLP Personality Profile results will available for you to view and print immediately after you submit your survey.
Take The LifeSet™ NLP Personality Profiling Survey - Click Here
Click Here if you would like to return to the nlp•australia web site.